12664
product
430
USD
Eskimo 24 dragon
$ 430,00
Mou products are made with carefully selected materials. Please handle items with care in order to ensure a longer life.
Keep away from direct light, heat and rain. If they get wet dry them immediately with a soft cloth.
Fill the shoes with tissue to maintain their shape and absorb moisture, store them in the flannel case.
Clean with a soft, dry cloth.
Shipping is free.
If you are not happy with your goods you may return them. To make a return or request a refund please return the products within 30 days of purchase.
Items will be refunded providing that the item is returned in the same condition as delivered with the original packaging intact and all tags attached.
Refunds are issued within 14 days after receipt of goods to allow for inspection.
The transport cost is charged to the person who returns the article.
Any queries regarding your online purchases must be made directly to us at the following address: moucustomerservices@artcrafts.it
For online purchases Mou accepts the following payment methods:

Visa

American Express

MasterCard

PayPal

For payments by credit card, the billing address must match the address associated with the credit card.
Once the order has been placed, a charge of 0 euros (or GBP, CHF, AED, SAR) will be authorised on the credit card; this operation
is aimed at verifying the card and will protect the user from any risk of fraud. The debit amount will be release by the card issuing
bank based on the condition set by the bank itself.
Unless otherwise indicated by the site during the purchase, the transaction will be charged to the credit card only after veryfing the
card details, receiving the debit authorisation for an amount equal to the purchase price of the items ordered and confirming
availability of the products and prepared the order for shipment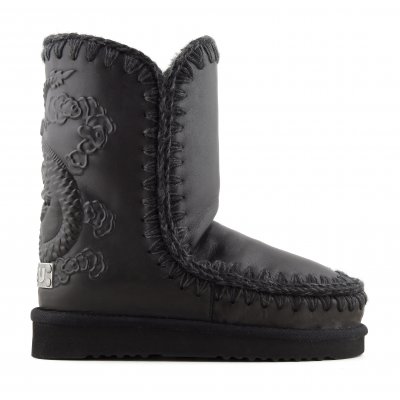 product details
A special edition dragon eskimo handcrafted in supple calf leather and embossed with the mythological Chinese dragon, symbolising strength, prosperity and good luck. Inspiration for this design came from a small 19th Century silver card holder found by mou creative director Shelley Tichborne at the Decorative Art & Antiques fair in Battersea, London. The upper is crafted in genuine leather, with deep, soft sheepskin lining, trademark mou wool stitch details, a supportive heel counter and hard-wearing EVA and rubber outsole. Height 24cm. Regular fit.